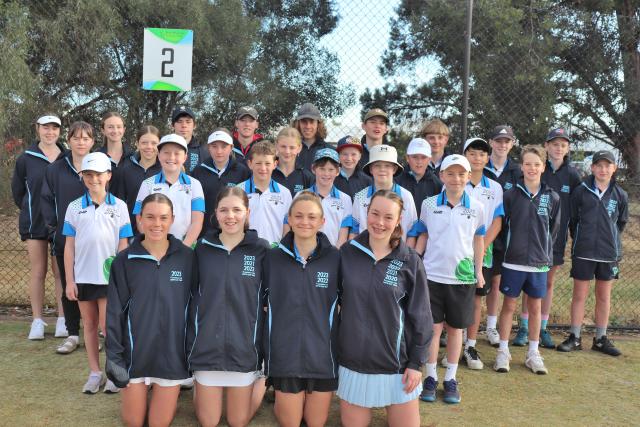 A SQUAD of 28 Limestone Coast tennis juniors represented the South East at the State Foundation Cup last week.
The six-region competition was held for the 10th consecutive year at the Berri Tennis Club and continues to act as a key pathway event for regional players and coaches alike.
The latest edition did not disappoint, even with less-than-ideal weather conditions, and the South East finished a respectable third overall.
Rain hampered preparations for the team event, but matches started on time in cool, damp conditions with only the Under 17's forced off mid-fixture when the rain returned at the end of the first day's play on Tuesday.
On Wednesday, windier conditions added a challenge for players, but a full day of action was completed with all age groups hotly contested.
Matilda Lush, Phoebe Bonney-Dowson and Ryder Telford fought tremendously in the Under 11's while every player in the grade benefitted from the experience.
Paige Telford improved greatly over the course of the week in the Under 13's and Hamish Gordon performed consistently despite only just returning to action after breaking his leg in July.
Harrison Ellis thoroughly enjoyed his first taste of action on the grass and all members of the successful Under 15's – who finished runners-up – supported each other well.
Similarly, the Under 17's gelled well and although a little rusty in their first hit out, grew into the competition as the rounds continued.
Sarah Brown and Will Cameron had plenty of close games across the tournament.
Overall, the South East won 95 sets and finished in third position.
The Adelaide Hills-Fleurieu region dominated many age groups and was even undefeated in some categories, amassing 148 sets to take out top spot.
Individually, Annabelle Gordon, Thomas Handbury and Brown were recognised for their sportsmanship and won the aptly named awards for their respective grades.
South East was also well represented throughout the finals of the individual competition on Friday, with several players securing their spot on the state team.
That team will travel to the Gold Coast in December to compete against the other states.
INDIVIDUAL RESULTS
Under 12: Annabelle Gordon (runner-up); Thomas Handbury (runner-up).
Under 14: Alita Huyser (runner-up); Sam Hasse (fourth – Reserve).
Under 16: Maggie Collins (Fourth – Reserve).
Under 18: Jessica Stutley (winner); Cayde Kelly (runner-up).