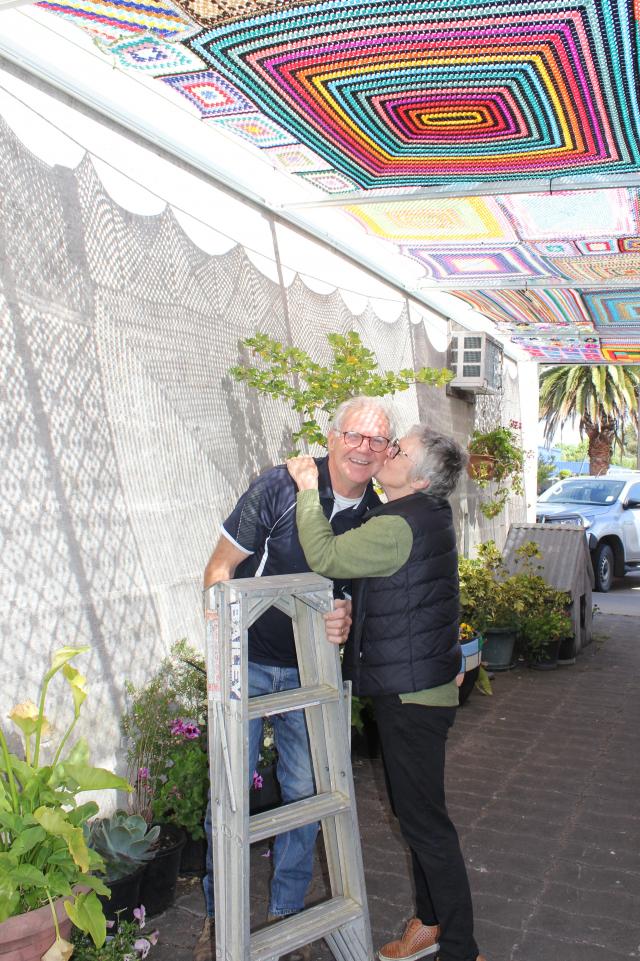 Caroline Hammat
In one year, a simple non descript laneway between shops in Millicent's Alexander Square has had a remarkable transformation.
Last year Moira Neagle approached property owner Dave Foster if he minded her adding a few plants to the space.
After placing a few pot plants in the laneway, Ms Neagle put the call out on social media encouraging others to add to the collection.
12 months later the laneway is lined both sides with an array of plants in a variety of containers.
Earlier this year the Millicent Craft Group, inspired by a colourful laneway in Malaga, Spain, asked if they could create a crochet canopy for the space.
Although the group hoped the canopy would be in place for this year's Geltwood Festival the inclement weather saw installation delayed until last week.
Lonergan and Muhovics played a crucial role in installing the work by attaching solar panel frames between the walls before hanging the work.
Dennis Muhovics, Michael Pink and Fletcher Leopold, from Lonergan and Muhovics, took an hour to attach the crochet work to the frame.
A small group gathered to watch the installation including craft group secretary Pat Muhovics and treasurer Emelia Tidy.
"It's brought this alleyway to life," Ms Muhovics said.
"I was surprised when we put it together how the colours worked well together."
Ms Muhovics and Ms Tidy expressed gratitude for the support from the team at Lonergan and Muhovics for undertaking the task.
"It's probably a good thing that we didn't think too much about how to attach it," Ms Muhovics said.
"We might never have started if we'd thought about how hard it was going to be.
Ms Neagle also dropped by to watch the installation and said the community support was "wonderful."
"People just want to add to it, I'm blown away by it"
"It's just so joyful."
Ms Neagle praised the support of Mr Foster for the project which began with allowing a few pot plants and has continued with each new idea suggested.
Plans to paint the laneway in preparation for a possible mural next year are being discussed.