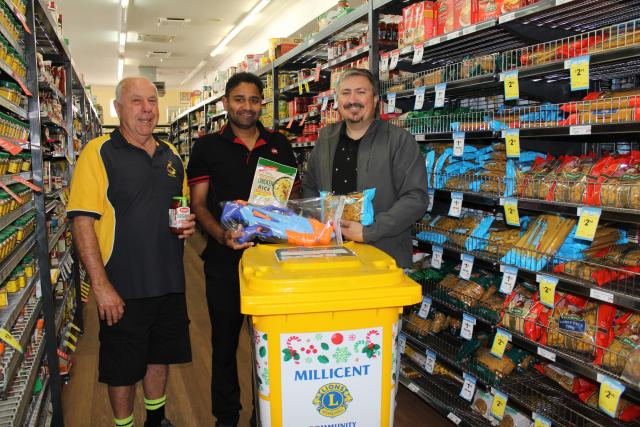 Caroline Hammat
The Millicent Combined Churches (MCC) have launched this year's annual Christmas appeal with a goal to fund 300 hampers for the disadvantaged in the community.
Kicking off the launch last Wednesday were president of the MCC Shaun Mulick, and vice president of the Millicent Lions Brendan McMillan.
"The goal of this year's appeal is to meet the needs of as many disadvantaged and vulnerable people in our community as possible," Mr Mulick said.
Donation bins for non-perishable items, new toys and treats have been placed in each of Millicent's three supermarkets and at eSmart Electrical.
These items will be added to pre-purchased Foodbank hampers.
Last year's appeal resulted in more than 200 hampers gifted to community members with organisers expecting requests for the hampers to rise this year.
Mr Mulick said with the doubling of electricity prices and the cost of living exponentially increasing, they wouldn't have any trouble doing 300.
"Especially this year, there are a lot of teenagers who are displaced, homeless or couch surfing," he said.
"Previously they haven't been included, so we are making sure we also supply to the disenfranchised people in this area."
The organiser's goal is to raise $21,000 to fund the hampers and add further value by including meat trays, school uniform vouchers and items donated to the collection bins.
The appeal receives donations of potatoes, oranges and onions, and Kimberly-Clark continues to donate paper products annually.
The Salvation Army has paid shipping on two pallets of donated Lego and ARC, the Animal Rescue Co-operative, will support the appeal by donating pet food and products.
Vulnerable community members are urged to register for a hamper through ac.care, local schools or churches.
Nominations by the broader community are also accepted.
"We've got a number of homeless in the area that might not necessarily get into an agency, that's why we are also calling it nominations," Mr Mulick said.
"If someone identifies someone in need, that might not have registered themselves, they can make sure that they are nominated."
Another challenge facing organisers is families cohabiting to help spread the cost of living.
In previous years these households were only eligible for a single hamper.
"We are working with agencies this year to make sure each family gets one, even if they are cohabiting." Mr Mulick said.
Manager of Millicent's IGA supermarket, Sukchhain Dhaliwal, said the appeal was well supported last year.
"Our bin was nearly full," he said.
"I hope this year the people and all our lovely customers support us again.
"We have some discontinued lines to add that will hopefully half fill the bin already."
Collection bins will be picked up on December 13 and volunteer teams will spend the next two days packing items in preparation for collection.
Any last minute donations can be made at the Millicent Christmas Fair, December 16.
Cash donations from businesses and individuals are urgently required to help fund the hampers and can be made at the Millicent Community Church by appointment or direct deposit to the Combined Churches account.
EFT details are Millicent Christian Ministers Association BSB 065 514, account number 100 302 03 or email communitychurchsa@outlook.com to request an invoice.