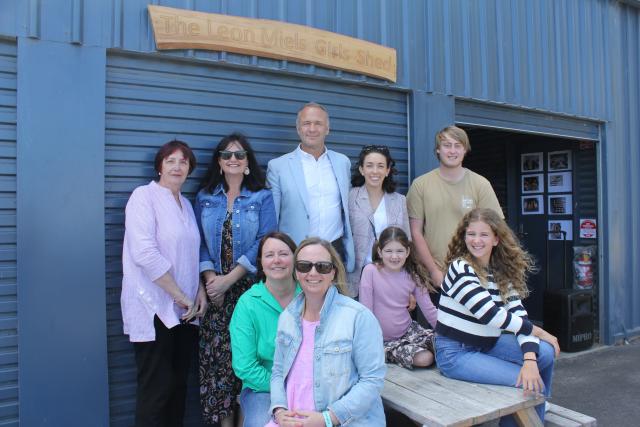 Caroline Hammat
A touching acknowledgement has been made at Millicent North Primary School (MNPS) in memory of popular mentor, Leon Miels, who died in April this year.
Students, family and friends attended the unveiling of the new Leon Miels Girls Shed memorial sign on Friday.
Mr Miels played a crucial role in helping establish the Girl's Shed following the success of the Millicent Mens Shed collaboration with the school's year seven boys.
Several girls at the school expressed an interest in also learning woodworking skills.
From this idea one end of the school's shelter shed was enclosed to create a workshop and the Girl's Shed was formed.
Principal at the time, Graham Slarks, approached Mr Miels about building work benches for the space and from this his involvement grew.
Mr Miels worked alongside School Services Officer (SSO) Sarah Faulkner working on small projects with the students.
Many hours were spent by Mr Miels to plan and construct projects for the girls.
MNPS Deputy principal, Carolyn Rayson, said he taught them far more than just practical woodworking skills.
"Leon took a genuine interest in everybody he came across, it was really lovely and I think our girls got a lot out of that.
"He gave them so much more confidence in themselves, to have someone listen to them and help them."
Although Mr Miels and Ms Faulkner are no longer with the Girls Shed two current SSO's have picked up the tools in their place.
Jackie Sunderland, who has a background in carpentry, and Staci Faulkner continue the program.
Current student Kayleigh Bowering said she had enjoyed working with Jackie and Staci.
Olivia Hales also completed the program this year.
"It was really fun learning different woodworking techniques and how to use the bench drill" she said.
"The electric sanders, they were really good to use"
Mr Miels son, Ben, travelled from Adelaide with his family to attend the event.
"We are very grateful and honoured to have this building named after dad" he said.
"He was very passionate about children and education, particularly in the trades.
"In the world today there is a shortage of those trades so to have something like this facility for young people to learn about the trades is invaluable.
"He would be absolutely delighted that this facility continues to grow from strength to strength, he wouldn't be overly happy about having his name on top of it.
"As you know he was a humble man."
Mr Miels involvement with youth was further enhanced by his long standing involvement and support of Noorla Yo-Long.