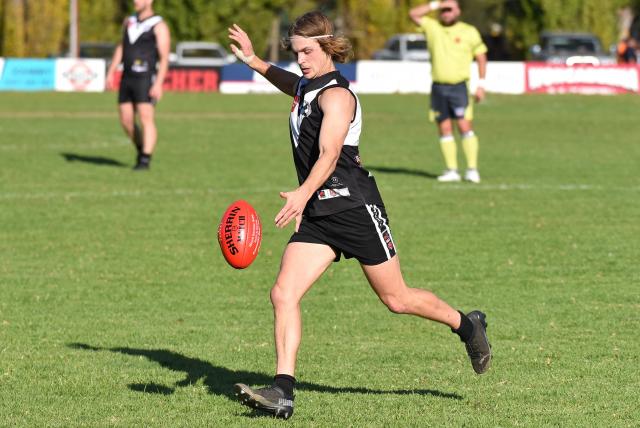 James Murphy
The Mid South Eastern Football League will have the home-ground advantage at the 2022 Limestone Coast Regional Carnival this Saturday.
Played at Kongorong, the MSEFL Senior Interleague team will match up against the Kowree Naracoorte Tatiara Football League in a battle for representative bragging rights.
The carnival will take the same format as the 2021 event, where two of the region's three leagues face off in a single full-length game.
Last year MSEFL clashed with Western Border and suffered a defeat and will now be eager to bounce back against the KNTFL.
Ben McGregor is back at the helm as coach of the side and will be assisted by Hatherleigh's Jase Faulkner.
McGregor described his team as young but experienced.
"I don't think we have anyone over 29 in the squad," he said.
"We have a lot of guys in that 22-26 age bracket who have probably played anywhere between two and five years of Interleague footy.
"It is a really good age group to have."
At this stage all nine MSEFL clubs are represented in the side and there is no shortage of talent.
Ladder leaders Kalangadoo and Hatherleigh feature well, with the Magpies represented in all areas of the ground.
Mitchell Lowe will line up off half-back, while Sam and Tye McManus join Andrew Stone and Ben Gregory in a Magpie dominated midfield.
Lachy Jones squares up off half-forward, while for Hatherleigh Jack Skeer will be one to watch from the same position.
Robe coach Thomas Wachtel will take on the ruck, with the likes of Mount Burr's Sam and Josh Willis – among many others – can always be counted on to perform.
Davis looks forward to the chance to test his team against the KNTFL.
"It is a really good opportunity for us up against KNT, being probably the strongest league down this way," he said.
"To come up against them on our home deck is a real test for us but it is an excellent opportunity."
The home-ground advantage could help MSEFL to victory, with nobody from the KNTFL team having played at Kongorong before.
However, McGregor expects a strong competition from their Interleague rival.
"They generally are a fairly big and hard-running side," he said.
"We just have to work with what we have and try to work to our strengths.
"We are looking forward to it."
The team will be finalised tonight at a selection dinner, where the final 23-strong side will be chosen.
TEAM
B: Patrick Mitchell (Glencoe), Sam Wallis (Mt Burr), Mark Smith (Port Mac)
HB: Mitchel Lowe (Kalangadoo), Josh Wallis (Mt Burr), Harrison Evans (Kongorong)
Ruck: Thomas Wachtel (Robe), Andrew Stone (Kalangadoo), Jack Dawe (Tantanoola)
C: Sam McManus (Kalangadoo), Tye McManus (Kalangadoo), Ben Gregory (Kalangadoo)
HF: Joel Virtanen (Nangwarry), Jack Skeer (Hatherleigh), Lachy Jones (Kalangadoo)
F: Will Bowering (Mt Burr), Jak Ryan (Tantanoola), Troy Hatt (Tantanoola)
INT from: Sam Gray (Hatherleigh), Lewis Walker (Hatherleigh), Dylan Childs (Glencoe), Brandon Newton (Port Mac), Jordan Hatt (Tantanoola), Samuel Clements (Robe), Andrew Hyland (Nangwarry).