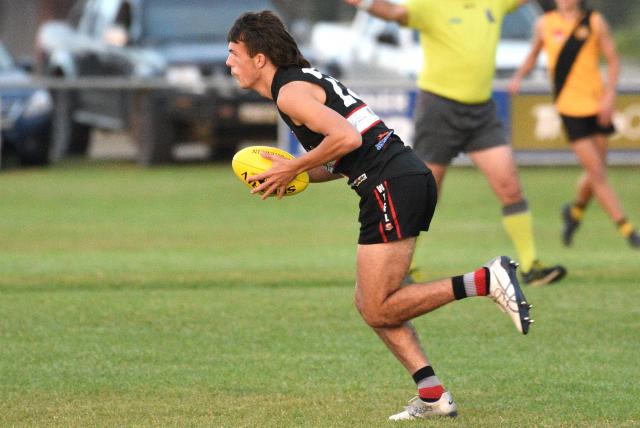 James Murphy
There will be no shortage of talent on display when the Western Border Football League's Under 17.5 interleague side contests the Limestone Coast Regional Carnival this weekend.
Played annually between the Western Border, Mid South Eastern and Kowree Naracoorte Football Leagues, the eighth edition of the competition will be hosted at Kongorong on Saturday.
North Gambier A Grade coach Ben Hardy has been tasked with coaching the representative side and will be assisted by Kevin Bryant.
One of the challenges faced has been narrowing down the squad from a deep pool of talent.
A glimpse at this year's A Grade competition shows the wealth of junior talent in the Western Border Football League and cutting down the 50-strong training squad to a final 23 was no small task.
"When you have 50 quality players in there it is tough, but it is a good thing for the league that there are so many talented kids playing," Hardy said.
In the end Hardy said it was not only talent which earned selections but the understanding of what it means to represent your league.
"All of them know how to play footy, so at the end of the day we just have to try and make the best selections which will give us the best representation of Western Border," he said.
"There have been some tough calls and probably some quality players miss out but that is the way it is."
There is no shortage of A Grade experience in the list, including the likes of Millicent regulars Eli Redman, Ty Lang and Kalen Shanks.
North Gambier is well represented as well, with Brodie Allen, Tyler Harris and Deacon Ilsley frequenting the Senior stage, while the likes of West Gambier's Mitchell Cornolo and South Gambier's Nelson Forbes and Mitchell Harrold can be expected to impress as well.
With plenty of other talented names on the list, Hardy is pleased with team and is confident heading into the carnival.
"I think we have a really good team," Hardy said.
"The kids are really excited at the moment and training the house down.
"I think we will put on a really good show."
The final list of 22 will be selected tonight and will have four emergencies if required.
The first game will be played against MSEFL at 9.50am, with the second against KNTFL the last junior game of the day at 1.50pm.
SQUAD: Nick Joy (Millicent), Austin Fuller (Millicent), Keenan Dwyer (East), Ty Lang (Millicent), Brodie Allen (North), Tyler Harris (North), Harry Fisher (South), Eli Redman (Millicent), Joe Judd (West), Lachie Thiele (South), Reece McLaughlin (North), Nelson Forbes (South), Jacob Todd (Millicent), Kalen Shanks (Millicent), Mitchell Cornolo (West), Harry Wright (South), Jack Lawrence (East), Jackson Bowden (Millicent), Jack Haggett (Millicent), Jed Sims (South), Deacon Ilsley (North), Angus Clark (East), Cayde Watson (South), Mitchell Harrold (South), Will Ellis (East), Rufaro Makore (Casterton Sandford).