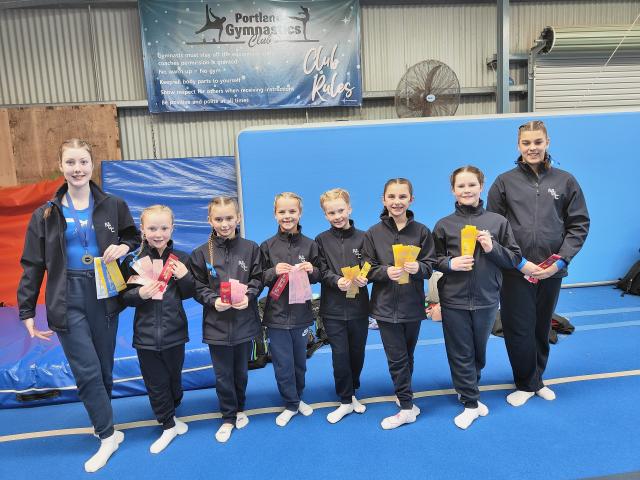 The Millicent Gymnastics Club has returned from the Portland competition with some impressive results.
Many of the young athletes showed solid improvement and finished well up the placings.
Seven gymnasts competed in MAG Level 1, with Patrick Dickenson third on the Parallel Bars.
His scores improved on Vault, High Bars, Parallel Bars and Pommel.
In WAG Level 1 Dakota Bateman received black results for all apparatus, which are just under the top results, meaning her routines were executed well with no major errors.
She also showed improvement on Floor improved.
In WAG Level 2, all Millicent's gymnasts – Luca Bateman, Isla Varcoe, Letty Hodgens and Saige Bellin – received top results for Vault.
Bateman showed improvement on Floor, Hodgens on Beam and Floor, plus Bellin on Bars and Beam.
Lilly Vanderheul, Jordan Wakelin and Lacey Peters formed the WAG Level 3 team and finished sixth on Beam and Floor.
The WAG Level 3 competed against 43 athletes for individual honours.
Vanderheul, placed seventh on Beam and Wakelin 10th on Floor, while Peters' highest placing was 13th on Floor.
Peters' Vault and Bars scores improved, as did Vanderheul's Bars and Wakelin's Vault and Bars.
Harper Zalme, Pacey Fox, Zoe Butler and Cedar Ferguson formed the WAG Level 4 Red team and finished second on Floor, plus fifth on Vault, Bars, Beam and Overall.
Polly Sapiatzer, Maddison Inverarity and Savannah Dickenson formed the Yellow team and finished sixth on Vault, Bars, Beam, Floor and Overall.
The WAG Level 4 gymnasts faced 24 competitors, where Cedar Ferguson received a nine-club – less than a mark from a perfect 10 – on floor, 9.150.
Other results
Harper Zalme: ninth Vault, eighth Bars, seventh Beam, fifth Floor, 10th Overall.
Cedar Ferguson: ninth Vault, first Floor.
Maddison Inverarity: eighth Beam.
Polly Sapiatzer: 10th Bars.
Pacey Fox: Highest placing 15th Bars.
Zoe Butler: Highest placing 15th Vault.
Savannah Dickenson: Highest placing 13th Beam.
Improvement came from Zalme on Beam and Floor, Ferguson on Vault and Floor, Fox on Beam and Floor, Inverarity on Vault, Beam and Floor, Dickenson on Bars and Beam, plus Sapiatzer on Vault, Bars and Beam.
In WAG Level 5, Isobel Thompson finished first on Floor, fourth on Bars, sixth on Beam for a sixth place overall.
She showed improvement on Bars, Beam and Floor.