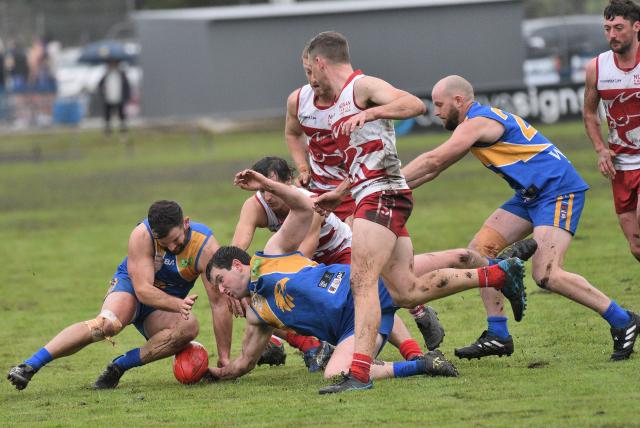 Trevor Jackson
A GRADE – ROBE V HATHERLEIGH
The Mid South Eastern Football League enters finals this weekend, with the A Grade first semi-final clash enticing to say the least.
Hatherleigh has the home-ground advantage, but in finals that probably goes out the window.
Robe was the benchmark of the competition early in the season, but it is probably fair to say the Roosters fell away as the season progressed.
Back in Round 4 the two sides clashed for the time in the season and it was the Roosters who came up trumps, with a solid 34-point win.
There were no big bags of goals kicked, but Robe enjoyed 10 individual scorers.
In Round 13 the tables were turned, as Robe suffered from injuries and the Eagles began to hit their straps.
Hatherleigh claimed a 41-point victory, controlling the contest after a tight first quarter.
In that game Tom Hutchesson contributed four major goals as he began to find post-injury form.
When fit, both sides have their game winners, with Hatherleigh boasting not just Hutchesson, but the likes of Will and Patrick Chay, Brad Mitchell, the Telfer boys and are well led under the tutelage of Gerard McGrath.
There is no shortage of talent at Robe either, which showed with the early-season form that had the Rooster atop the ladder for many weeks.
Nathan Brown leads the Roosters well, with last season's coach Tom Wachtel still very much an active part of the roster.
Add to that the likes of Zac Deane, Joel Bryant, Egan Regnier, Henry Lawrie – a possible Mail Medalist – and again, the list goes on.
It is easy to say the team that gets off to the better start will have a good chance to take the win, but in minor-round games that has not always been the case.
Four strong quarters of football is required and both sides are capable of that.
Hatherleigh comes in with better late-season form and may have the edge there, depending on the final line-up for the Roosters.
On the line is a date with either Port MacDonnell or Kalangadoo, an ominous scenario in anyone's books.
With recent form in their favour, the Eagles should get the job done this week and progress to the preliminary final in two week's time.