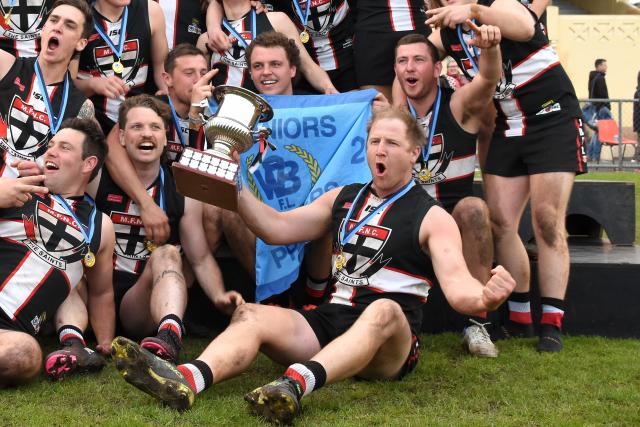 James Murphy
CLINT Gallio will leave a lasting legacy at the Millicent Football Club.
The four-time Western Border premiership coach is set to return to his former Mid South Eastern club at Mount Burr for season 2024 and will leave the Saints off the back of a history-making three-peat.
Gallio first signed on at Millicent in 2017, after winning back-to-back MSEFL flags with the Mozzies.
From there his career was decorated further, coaching the Saints to a drought-breaking premiership in 2018 and their second ever since joining the Western Border Football League.
It had been 34 years since the club had raised the A Grade cup, but the time between drinks would be much shorter next time.
In 2019 Gallio headed north to compete in the Northern Territory.
That year was a difficult year at Millicent and the reigning premiers finished the season as wooden spooners without a win.
The following year was interrupted by the Covid-19 pandemic, before Gallio returned home in 2021 to coach the Saints to a three-peat of premierships.
They knocked out minor premiers South Gambier in both 2021 and 2022, while the most recent success came at the expense of North Gambier last month.
It was a history-making victory for Millicent, while also a rare feat in the league's history.
No other club has won three consecutive flags in the league's current format, following the departure of Victorian clubs in 2013.
North Gambier is a partial exception, winning from 2012-2014, while the only other clubs to have achieved a three-peat in the WBFL are South Gambier and Portland.
There is no denying the level of Gallio's coaching ability and he will be a valued asset back at the Mozzies.
Gallio said leaving Millicent was a tough decision, but he is excited for his next endeavour at Mount Burr.
"It is just the right timing for me – footy wise and where I am at with my body and capabilities and all that," he said.
"It was a pretty tough decision."
He was grateful for his time with the Saints, which will always remain a prominent piece of his football career.
"Millicent has been really good to me and I have enjoyed every second," Gallio said.
"I think I have done the best I can and I have had a lot of people and players supporting me (on the journey)."
Mount Burr is in somewhat of a rebuilding phase and finished the 2023 season just shy of finals in fifth position.
Meanwhile, Millicent will be left in the safe hands of Tom Renzi as head coach, with premiership captain Jacob Carger to assist.