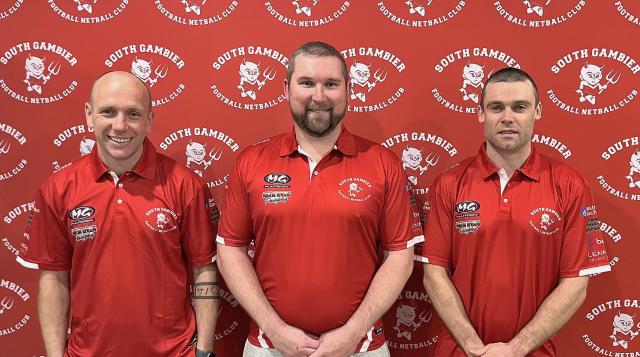 Trevor Jackson
SOUTH Gambier has announced Peter Duncan as its A Grade football coach for the upcoming 2024 season, with the retired Brett O'Neil his assistant.
A former Millicent local, Duncan was involved as assistant/bench coach through the recent successful Western Border Football League seasons, where the Saints claimed a three-peat of premierships.
Duncan's career in football began at Millicent back in 2005, before a move up to play for Port Adelaide, then the Hills league.
"I decided to try a bit of FIFO work and make a bit of money," Duncan said.
"I went off the map and put work in front of football, but that made me miss it even more.
"After five years I decided I wanted my life back, then moved back to Millicent in 2016 to play,"
Duncan was lucky enough to play under and coach with Clint Gallio, which he said helped advance his coaching career.
"I was at the club when Clint first moved in, when I was playing," he said.
"He has had a decorated career and is a hell of a player.
"Being able to play under him, then once I retired from football, being able to work with him, that is where my learning really started to take off.
"Just seeing how professional he is and how good of a leader he is, I could sit there and be a sponge, learn from one of the best.
"Then having Tom Renzi come in at the start of 2021, he has his own set of strengths and have learnt off both of them, which I think put me in good stead to go to South."
With Tom Renzi and Jacob Carger inline for the coaching roles at Millicent, Duncan said he if wanted to continue he needed to move clubs.
"I was looking for opportunity, wanted to take the next step and have my own coaching job," he said.
"I was lucky enough South gave me the opportunity."
South has its own experienced leaders at the club, with O'Neil sure to have an impact on Duncan's career as the two call the shots on a Saturday afternoon.
"I have always been a distant admirer of Brett, playing and coaching against him," he said.
"I was never the player Brett and Clint were, but just being able to lean on those blokes, ask questions of them, see what they see and get their thoughts can only help."
Another boost for Duncan will come through Reserves coach Chris Williams.
"I have had a few good chats with Chris and he is passionate about his coaching," he said.
"We want to be a senior squad, so having him on board is another set of eyes and a South local.
"He knows the club inside out and the players really respect him, so to be able to have him help will be good."
In the successful Millicent years, the Saints relied on young players coming through the system to grow and become the backbone of the club.
Duncan said it is a similar scenario at South, as the Demons continue to draw on their strength as a club.
"South is blessed with the juniors … they have always been strong," he said.
"The talent is there, the pathway is there and they have players coming through year on year.
"The good thing for me is it was not too dissimilar at Millicent.
"We had the same sort of thing with the majority of players home grown young kids.
"I'm hoping I can build something similar at South."
While there is still some doubt about the format of football next season, Duncan said that was not an issue as far as he is concerned.
"Personally it doesn't bother me where we play," he said.
"I just want to coach the boys and they just want to play.
"Whoever the opposition is doesn't matter.
"We are more on a journey of what we can do rather than who we are playing against."
Regardless of matters out of his hand, Duncan said the move to South had so far been smooth across the board.
"I have been lucky, a lot of South and Millicent people have congratulated me and wished me the best, which is nice.
"Everyone has been really helpful."