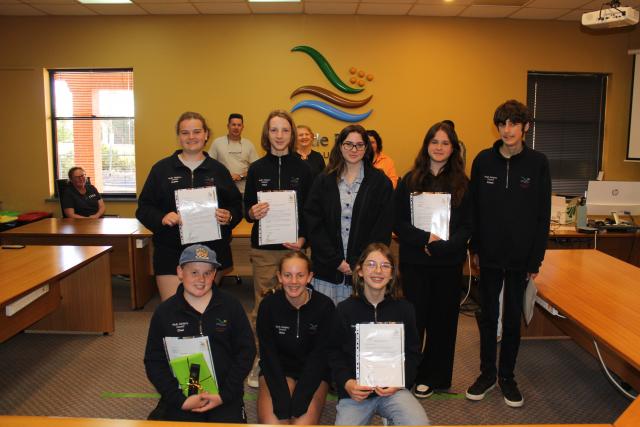 Caroline Hammat
Since March, eleven dedicated young Wattle Range Council (WRC) residents have met regularly to form the Youth Advisory Council (YAC).
Last week the group held a graduation ceremony in the council chambers with family members in attendance to celebrate their achievements.
It was the second graduation ceremony following on from the first held last month in Penola where two YAC members were unable to attend.
Eight members of the group attended and spoke about the program in front of Mayor Des Noll, director development services Emma Clay and manager community development Caroline Hill.
Following their presentations, family members were invited to witness the group members receive certificates.
Unable to attend the first ceremony Katie Leyden and Chad Cockrum both received a pen crafted from recycled Beachport jetty timber and a notebook, which other members had already received.
Katie attends school in Mount Gambier and feels more connected to that community through her school.
Her involvement with the YAC gave her a better understanding of Millicent and the WRC region.
"I thought the council was really rewarding," she said.
"I go to school in Mount Gambier, but it was really cool planning an event in Millicent.
"The disco was really successful and I'd like to see something like that again.
"You learn a lot of skills like public speaking, working in a team and planning events."
Both Katie and Chad encouraged others to think about nominating for the 2024 YAC.
"I'd recommend others to sign up" Chad said.
"It's been a good opportunity for us to grow our different strengths and I think it would be good for other people as well.
"It's been a real pleasure to have my say in what I'd like to see, and change, in the Wattle Range community.
"I was pleased to have the opportunity to be in a group of amazing confident people."
During their time on the YAC the group formed their own terms of reference and chaired their own meetings.
They attended a Youth Emergencies workshop and helped inform a pilot program for the Red Cross around youth and emergencies.
Working together the group planned and hosted a popular Halloween Disco and have a long term goal for a proposed youth hub in the community.
Ms Hill played a role in coordinating the program and said
"I have immensely loved my time working with these young people.
"They are a very unique, well engaged and well informed young group of people who clearly know what they want and are just a delight to work with."
The current members include Aya Jones, Brogan Wright, Chad Cockrum, Caelan Tsigros, Katie Leyden, Rochelle Crawford, Rose Fry, Starla Perry, Sophie Tilley and Taine Wright.
All members have expressed interest in re-nominating for the 2024 YAC.