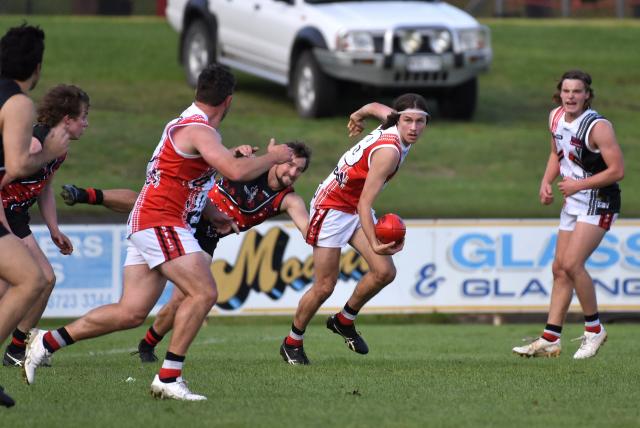 James Murphy
Fresh off a bye for the long weekend, Millicent A Grade footballers will look to resume their successful 2022 Western Border football campaign this Saturday.
The Saints sit second on the premiership table heading into this week's Round 10 home game against East Gambier.
A win of a large enough margin could boost them to the top seat, as South Gambier holds first place on percentage alone.
The Bulldogs have been left wanting this season and despite glimpses of their former glory, have failed to reap the rewards brought on by consistency.
They sit on the bottom of the table with a single win for the year and will face the challenge of visiting McLaughlin Park for a clash with the reigning premiers.
Last time the sides met was in Round 5 at McDonald Park.
On that occasion East started strongly to set up a four-goal lead by the first change, but from there Millicent took control.
The Bulldogs were held to one goal after quarter time, which did not come until the fourth term as the Saints marched to a 28-point victory.
Josh Werchon, Kade Varcoe, Frazer Bradley and Sam Willis led the way in the meeting and they have all maintained a high standard of football since.
Bradley comes off a best-on-ground performance against North Gambier in Round 9, while the likes of Varcoe, Werchon and Zac McGuinness have been consistent performers throughout the season so far.
Dylan Bromley has started to become the focal point in front of goal and could attract the attention of Nick Lock on the day.
However, the Saints' options are far from limited and the likes of Jacob Carger, Willis and Werchon have been regular goal scorers.
Hamish Nitschke's return from injury has added another avenue and his versatility has proven an asset in the last couple of rounds.
The Bulldogs will look for another strong outing from co-coach Jayden Eldridge, who put in some quality performances heading into the bye.
Lock has also been consistent for East this year, while Luke Johnston, John Forster and Carl Slape all carry form into the clash.
Mark Rumbelow has started to make his presence known in front of goal and he will join Garrett Ha as the main targets inside 50.
If they can find reliable deliveries the Bulldogs could put up a fight, but it is becoming progressively more difficult to mount a case for them against the top teams.
As such Millicent should claim the points by a comfortable margin on its home deck.